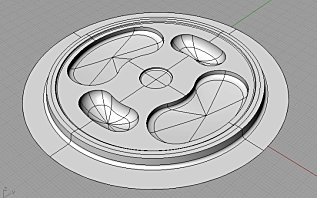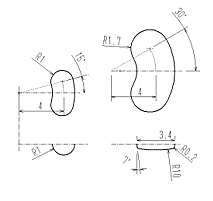 Work material: ultrafine particle alloy

Use processing machine: detailed precision processing machine iQ300
From pillar form to cutting. Electrical discharge machining


does not carry out. Lapping process implementation.

The total machining time: About 17 hours
[feature]Accuracy improvement of the connector portions of a curved surface.
1.R1 the curved surface is ±0.01mm
It succeeded in that the high precision also in the portion which cannot raise tool peripheral speed at the portion with keeping high accuracy, and controlling tool wear and lowering tool cost reduction.
2.Without knot of a curved surface compound R
When such form where R (0.2R) small into an angle portion and big R (10R) on the bottom combined processes the bottom, it cannot get tool peripheral speed but processing takes time to it. Moreover, since small R in the angle portion 0.2R, the size of a tool is also restrained. Under such severe processing restrictions, the accuracy of R0.2 and R10 are achieved ±0.025 mm.
Furthermore, it succeeded in losing a knot by processing the whole by one tool.