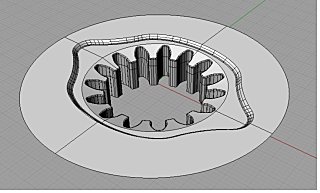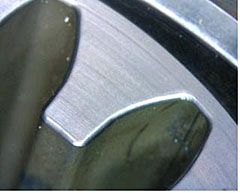 Work material: Special metal(about G6)

Use processing machine: detailed precision processing machine the cutting prepared hole gear portion by IQ300

Process time: About 30 hours
【feature】It is the accuracy improvement of a micro process part by direct carving and lapping less.
The fillet of R0.3 was given to the gear type hole and the knot of a 15°taper by direct carving.
Since it is required to perform a polish after electric discharge in the case of the electrical discharge machining which is the conventional processing method, the form of a fillet may be broken down.
And it became possible by direct carving processing to it, coming out and skip out a lapping to transfer processing accuracy for a product 100% as it is.
Moreover, although the sample carried out all, except the down side hole by direct carving processing, when it is form processing of such big size, combination which considers that only the portion that the usual accuracy portion is performed by form carving electrical discharge machining, and high precision is required is direct carving processing will also be considered.