The Heading Dies for TRILOBULAR™ and REMFORM® products
Since 2008, as an official tooling dies licensee in the Asia-Pacific region of CONTI fasteners AG in Switzerland, our company has been supplying genuine heading dies to fastener licensees for their manufacturing TRILOBULAR™ products and REMFORM® fasteners those intellectual property rights are owned by CONTI fasteners AG.
Our company has been producing precise and long-lived genuine heading dies but with reasonable price in which based on licenser's specifications as well as utilizing our original carbide processing technology and mirror finish processing technology.
Moreover, we are able to produce all design of genuine heading dies those are determined by the licensor for REMFORM® fasteners and TAPTITE 2000® fasteners series including TAPTITE II®, DUO-TAPTITE®, and POWERLOK® fasteners etc.
About TAPTITE 2000®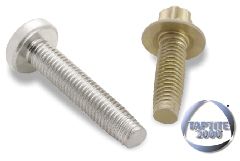 TAPTITE 2000® fastener is the state-of-the-art thread rolling fastener that consolidates various advantages of a traditional TAPTITE II® design and DUO-TAPTITE® design together and substantially improves its thread forming and fastening performance.
In the TAPTITE 2000® series, there are TAPTITE 2000® "SP"™, TAPTITE 2000® "CA"™, FASTITE® 2000™, and MAGTITE® 2000™ fasteners so that the customers would be able to select most suitable design for each application.
Those have been widely used in the automotive industry, electronics industry, and the home appliance industry, etc. in the United States and Europe.
Click above then it would move to the licensor's PDF document