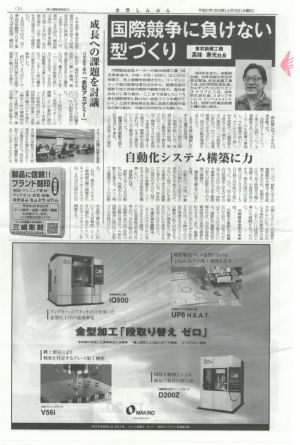 Globally competitive Dies Manufacturing
Mr. Hisamitsu Komi, President
Tokyo Byora Koki Co., Ltd.
Cold header Dies manufacturer, Tokyo Byora Koki Co., Ltd.
( Saitama pref. Niiza city 048-478-5081) has made revenue double since 10 years.
After sudden drop of Lehman Shock 2008, they have devoted to direct carving technology development, customer base expansion and global investment and then achieved this growth.
From now on, we will continue global competitive Dies manufacturing, said Mr. Komi.
Interviewed about growth element, current activity and direction from now on.
10 years has passed since new factory building.
At that time we were very bottom due to drop of Lehman shock.
Micro screw manufacturers who were our main customers, production quantity has been dropped drastically and even now some are continuously fading out.
We have started recovery and now customer base has been expanded to three times, 80 companies.
Key reason was a change of customer from electronics to automotive industry.
Our Thailand factory has been opened in 2015, passed tough time and now customer base has been expanded from a few to over a dozen. Our process level has achieved 5micron meter and production capacity has been exceeded 100 pieces every month.
Now they can manufacture at the same level of Japanese factory if it were a standard level of products.
We have concentrated a direct carving of Tungsten Carbide.
This is one of key factors of growth.
Direct Carving can eliminate Electrode production and lapping process so it can decrease process time largely in comparison to Electric Discharge Machining and productivity can be improved.
Current domestic production capacity has been increased to 1,000 ~1,500 pieces a month almost double of 10 years ago.
But still EDM is occupying a half of production, so deep and complicated shape category process expansion is a key of direct carving.
Currently we are struggling with automation.
From now on, working population is declining and shortage of man power is unavoidable.
Our task is how to improve productivity with smaller work force.
In future, we should achieve a same level of production with a half number of workers.
In details, in addition to automation of direct carving, automation of EDM will be promoted.
We are planning investment for Electrode and an exchange system of work process automation in Thailand factory.
Within 3 years, we will achieve full scale of automatic operation and if it succeeded, we will adopt it to Japanese process too.
Future of Cold Forging Dies.
We believe it is a chance for us that automobile industry is tending to electric and weight saving.
Electric vehicle needs tremendous volume of electronics components and demand of our superior electric contact dies would jumps.
Weight saving seeks smaller volt and fastener.
Our superior less than 5mm parts demand will increase.
To be prepared to those demand increment, our productivity improvement is inevitable.
Overseas operation development is considered not only in Thailand but also sales hub in India.
By our strength of Tungsten Carbide process technology and high quality, we continue further efforts for global competitive die manufacturing.