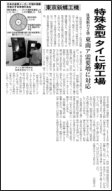 Production capacity double to comply with demand increase in South East Asia.
Tokyo Byora Koki Co., Ltd. (Niiza city Saitama, Mr. Hisamitsu Komi, president) has started to operate a new factory in Thailand to produce specialized dies for manufacturing precision bearing etc.
Increased a production capacity double of specialized dies by using Tungsten Carbide totally with Japanese head factory.
In South East Asia, many Japanese manufacturers are mass producing complex components for specialized precised market, there are big business chances for Japanese micro dies.
New factory has been established at Rangsit Prosper Estate in Thailand. Capital 100million yen, 10 operators at beginning.
Producing Dies to be used for『Cold Forging』, processing material at normal temperature.
Materials are mainly Tungsten Carbide for mas production of car bearing, engine components and electronic components.
Tokyo Byora Koki can also manufacture specialized dies by utilizing machining center and diamond tools, not alike traditional process of using Electric Discharge Machining (EDM) only.
In comparison to traditional process products, 50% increased lifespan and one fifth of lead time is a sales points.
By operation of new factory, total capacity becomes double, 2,000 pieces a month.
Inquiries for specialized dies are increasing from bearing and motor manufacturers of Japan and monthly revenue has soared to 150% in comparison to last year.
A manufacturing of general purpose products are shifting to South Eastern Asian countries.
Now a tendency to produce Japanese designed complicated components in foreign countries becomes strong.
One of back ground is economic growth and improving of life standard, local consumption product specification level has been improved.
In order to comply with complicated production process, many of Japanese factories in Asia are depending dies supply to import from Japan.
Tokyo Byora Koki will strengthen a sales activity to Japanese factories in Asia in parallel to increment of production capacity.
Expecting a overseas sales 150 million a year.
Further on, in two year from now, 100 million yen will be invested and operator will be double to 20 people, machine tools will be enhanced.
The production capacity of non specialized dies would be increased 50% and sales man would be dispatched to India where there is no business now.
Tokyo Byora Koki has been founded in 1961, good to produce dies for mas production of screws.
They went into a difficulty once but survived by an assistance of SME rehabilitation company.
In December 2013 they have established a sales company in Thailand by joint venture with Thailand subsidiary of Japanese components trading house.
Revenue of 2014 is expected 270 million yen.