Reproduction of Die and Punch
Although the WC-Co (Carbide) heading dies and punches have some significant resist and shock abrasion, they would be running out of their life-time at some point of time.
Depending on the shape and the degree of fatal damage, it would be possible to reproduce for another dies and punches by cutting away some abraded portions where would not be used as the die.
We perform the reproduction of the punch to form a rivet and the electric contact widely.
It can be largely shortened in comparison with a case to prepare it from a new material for the dies on the appointed date of delivery and can send it in minimum period of three working days. We can offer the price as 50 to 70% of brandnew conventioanl one.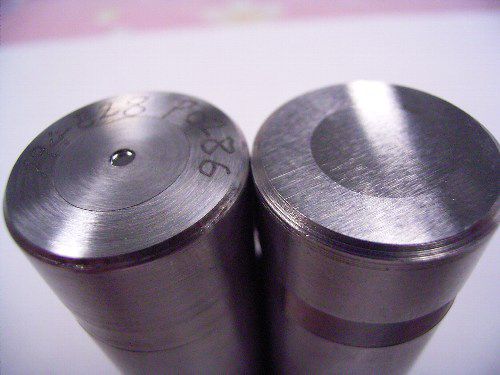 The right photograph shows that is cut off an abrasion part of the punch、
The left photograph shows that has been revitalized as a punch