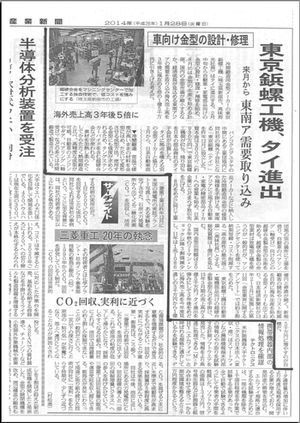 Tokyo Byora Koki Co., Ltd. is planning to open a factory in Thailand.
From next month, in order to gather South Eastern Asia demand.
Design and repair dies for automotive
Tokyo Byora Koki Co., Ltd. Mr. Hisamitsu Komi, president, Saitama Niiza city), cold forging dies manufacturer will open a factory in Thailand.
From mid of February, they will start design, repair and maintenance of dies for automotive and consumer electronics parts, from August, production will start.
While Japanese market shrinks, by gathering South Eastern Asian demand and expand overseas sales to 5 times of now, 150 million yen in 3 years.
They have established their first overseas company, Tokyo Byora Thailand Co., Ltd. in an industrial estate between Bangkok and Ayutthaya in December last year.
Capital is 3 million Bahts (about 10 million yen), 67% is paid by Tokyo Byora Koki Co., Ltd. and 33% is paid by Japanese components trading company's Thailand subsidiary.
In corporation with another Japanese dies manufacturer in Thailand, they will start repair and maintenance of cold forging dies which they have delivered to Japanese automotive manufacturers in Thailand.
Also they will start sales activity to precision components manufacturers for automotive and consumer electrics in South East Asia, not limited to Japanese.
In August, they will start Dies production bu using Tungsten Carbide at different place in the same industrial estate for automotive bearing production.
Tungsten Carbide dies production is normally done by EDM ( Electric Discharge Machining), but Tokyo Byora Thailand will be the most advanced, high productivity factory, using machining center producing with short lead time and low cost.
Total investment is expected 100 million yen.
Japanese domestic shipment value of Dies industry fell 30% since 2008 Lehman shock and 2014 will be 1.018 trillion yen only.
To develop new market and customer, many company start overseas production and it is counted 30% of the company, according to Nikkei Shinbun survey done March 2013.
Tokyo Byora Koki is mainly producing dies for automotive and electrics, revenue at March 2013 term is 250 million yen.
With Thailand factory, they are trying to increase overseas sales from current performance of 30 million yen to 150 million yen within 3 years.
Overseas revenue 5 times in 3 years
Cold forging
Molding method by fixing the hard metal material to dies at room temperature.
The dies is requested to be strong and super hard alloy like Tungsten Carbide is used.
In comparison with hot forging which process the material after heating, higher level of precision molding is possible.
Many of automotive engine, gear and bearing are processed by cold forging method.