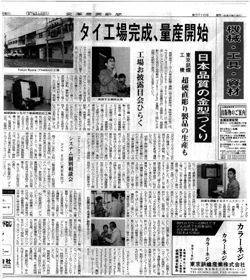 Metal Industrial Newspaper posts about Tokyo Byora (Thailand) Co., Ltd. Opening.
Completion of Thailand factory, mass production starts.
Dies production with Japanese standard quality.
Tokyo Byora Koki Co., Ltd. also process direct carving of Tungsten Carbide products.
Factory opening ceremony
Tungsten Carbide Dies manufacturer Tokyo Byora Koki Co., Ltd.
(Saitama prefecture, Niiza city, president Mr.Hisamitsu Komi)
has founded Thailand company Tokyo Byora(Thailand) Co., Ltd.
and held a factory opening ceremony 11th September.
Mass production of their own technology 『Tokyo-Ace』will be done.
Pursuing Dies production of Japanese standard level quality with short lead time.
The factory exists at Rangsit Prosper Estate in between Bangkok and Ayutthaya. Company was registered December 2013 at the same place as a sales representative but this time moved to bigger factory building.
Introduced the newest production equipment.
Major equipment are micro precision machining center (iQ300 made by Makino Milling Machine Co., Ltd.), Die sinker EDM (EA8S, made by Mitsubishi Electric Corporation), Wirecut EDM
(MV1200S made by Mitsubishi Electric Corporation).
With micro precision machining center, 『Tokyo-Ace』,a dies made by direct carving of Tungsten Carbide will be processed.
Long lifespan, short lead time and high precision, capable to produce more than 100pcs dies a month with Japanese standard of high quality level in Thailand.
Traditional process dies which apply EDM, upper process of material production will be done in Japan and latter process will be done in Thailand using new EDM which has a double productivity in comparison to conventional ones.
10 employees, Thai sales staff is good at Japanese language.
Mass production will be starting from August and already received a new order from Japanese glass manufacturer.
Early morning nine monks prayed for prosperity two hours and factory opening ceremony started with invited Japanese manufacturers in Thailand and related people made a factory tour by a guidance of Mr. Komi.
Later at the reception Mr. Komi explained a policy of mass production factory in Thailand and Specialized product in Japan.
Also his intention to adopt to many material of super hard dies.
At last, taking 3 years, employee's training and other tool machine introduction Thailand factory will be completed as matured one.
Mr.Takao Kiyofuji, president of Koyo Orient Japan,trading company specialized in precision equipment and invester made speech 『Got to know two years ago at Saitama Industrial Promotion Public Corporation's study group and from my experience of hard time when I started business in Thailand at Lehman shock tough time that I received big supports from Japanese entertainment there, I hope to repay my thanks to the same position company.
As he has completed a big start, I am expecting him to succeed not only Thailand but also Asean area business.』
Mr. Koji Shinohara, managing director of ECF Precision Thailand,( Thailand company of Crown Fastener) told 『High functional excellent machines are installed. I can order Dies with full confidence, expecting the same as Japan or even better quality dies are expected to be delivered. Thailand automotive industry is in slump of production quantity and request of cost down becoming hard. I am confident Mr. Komi's success with all staff's team work. 』
Mr. Wada, new general manager and all the local staffs were introduced during party.