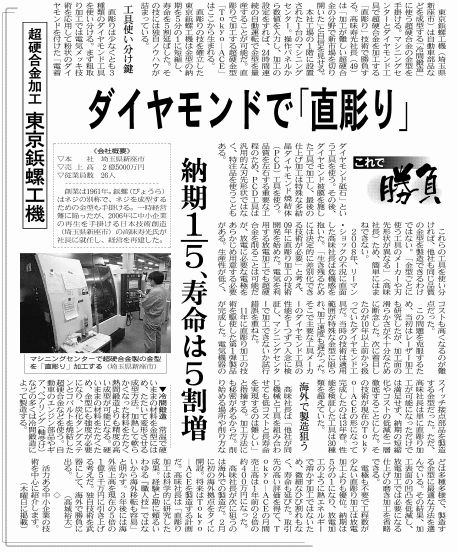 Tungsten Carbide process Tokyo Byora Koki Co., Ltd.
Direct Carving by Diamond
Lead time 1/5, Lifespan extended 50%.
Tokyo Byora Koki Co., Ltd. manufactures cold forging Tungsten Carbide Dies which are used for molding Automobile components.
They compete with direct carving technology which process Tungsten Carbide by machining center and diamond tools.
Mr. Komi, president is proud of opening new market in the field of Tungsten Carbide process which is hard to work with.
One Machining center is set on the ground floor of head quarter factory.
This can process Dies automatically 24 hours by setting process from operation panel numerically.
『Tokyo-Ace』 is a process technology brand name to produce Tungsten Carbide dies by direct carving of machining center.
Tokyo Byora Koki has established a direct carving technology and made lead time one fifth, lifespan 50% longer.
Direct carving needs at least three kinds of diamond tools.
Rough finish process needs a tool called electrodeposition diamond grindstone which is an application of electroplating with powder diamond.
Later, processing by diamond powder filmed tool, and finally finishing process is done by special polycrystalline diamond tool.
As Final process is especially important one to determine its quality, PCD tool sometimes should be a specially ordered one , not general purpose cutting edge shape.
Other companies cannot produce the same quality level of Dies, even if they use the same kinds of tools.
By each Dies, different supplier's tools and different shape of cutting edge must be used so it's not easy to do the same without piling experience.
In 2008, Mr. Komi faced Lehman shock recession and felt a strong sense of crisis.
『In order to survive we need definitively differentiative technology』so thought Mr. Komi and started to develop technology of direct carving.
It is also possible to cave Tungsten carbide by Electric Discharge process
but it must prepare Electrode before hands.
It was a weak point cost is high and productivity is low.
To overcome this problem, he studied a laser process at first but gave up because a surface smoothness was insufficient.
Next, a diamond tools have been studied which has been used 10 years.
At that time an application was limited to a special Dies and a process speed was slow.
Then, he has verified many manufacturer's diamond tools one by one and continued a cut and try if those can be used by a machining center or not.
In 2011, the first product has been completed by utilizing a direct carving technology.
It was a Dies to produce an electrical appliances switch contact components. Mr. Komi was not satisfied with direct carving but tried harder to shorten a lead time and lower the cost.
It was a spring of 2013 when that technology has been completed as 『Tokyo-ACE』.
More than 30 tools have been verified till then.
Mr. Komi points that a competitor can hardly compete by using same machine and tools.
There is a secret of process technology.
Starting point of carving and method of carving varies a lot and appropriate technology should be chosen by each Dies.
By collect selection, process face smoothness could be averaged and eliminated lapping process which was inevitable by Electric Discharge process.
Electrode was not necessary so direct carving needed much less process and became profitable than electric discharge process.
A lead time becomes one fifth and lifespan has been extended as it does not create micro crack likewise to electric discharge process which melts by high heat energy.
By obtaining high evaluation from users, Tokyo-ACE's monthly revenue becomes double of one year ago, 4million yen.
Mr. Komi's next target is an overseas production.
In February, he has opened his first office in Thailand where Tokyo-Ace is processed in future.
Mr. Komi told, Tokyo-ACE is a result of scientific research not by intuition and experience of a craftsmanship so it is easy to relocate to overseas base.
In 3 years later, overseas revenue should be 150 million yen, 5 times of now.
Own technology as a weapon, they go on the field at overseas.
# Cold Forging
Molding technology to fix a material into Dies and beat to deform by normal temperature.
It can process much more precision molding than hot forging which heat a material and beat it while it is hot.
As cold forging technology beats a material while it is hard, the Dies should have strength and Tungsten Carbide which is sintered carbonated tungsten and cobalt is used.
Many of Automotive components like engine components, gear and bearing are manufactured by cold forging technology.