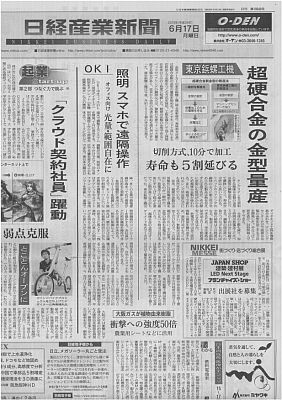 Tokyo Byora Koki Co., Ltd.
Mass production of Tungsten Carbide Dies
Tokyo Byora Koki Co., Ltd. Saitama Pref Niiza City, Mr. Hisamitsu Komi,
President, starts mass production of Tungsten Carbide Dies.
Chosen a cutting process by diamond tools, saved a man-hours and shorten a process time to one fifth of conventional one.
Rivet and ball bearing made by Tungsten Carbide Dies, normally mass produced by multiple production lines and requested quick delivery of Dies.
Tokyo Byora Koki will try to produce 1,000 Dies a amonth.
Cutting process, 10 minutes
Lifespan extends 50%
Tungsten Carbide Dies are said hard to worn out and 10 times longer lifespan in comparison with normal steel Dies.
Like rivet and ball bearing which are requested high durability, made by cold forging process, the load is applied to Dies so Tungsten Carbide is often used.
Also Dies for lens production, made by high temperature, Tungsten Carbide is used.
Traditionally, EDM Electric Discharge Machining system is used for Tungsten Carbide Dies production.
In case of EDM, at finishing process, hand work is necessary and lead time becomes very long.
Tokyo Byora Koki has developed direct carving system by machining center alone by mixture of diamond tools to process Tungsten Carbide Dies.
It can avoid hand work and process 24 hours unmanned operation.
Total man-hour decreased and process time becomes 10 minutes, one fifth of traditional process.
Including steel case fixture to peripheral part, total lead time becomes 5 days.
Production cost can be saved and the price would be 10~20% cheaper.
In case of EDM process, processing part repeats melting and coagulation and the surface part becomes fragile.
The new process technology is cutting process only and this problem does not happen. As a result, lifespan of Dies extends almost 50 % in comparison with traditional one.
Tungsten Carbide Dies are tailor made one by one but among customers like
Bearing manufacturer, there is a request to supply a same product multiply in one time.
Tokyo Byora Koki sets a policy to supply more than 10 pieces of same specification products in one time.
Tokyo Byora Koki current total revenue is 250 million yen and Tungsten Carbide products alone yearly 120 million yen revenue is a target.