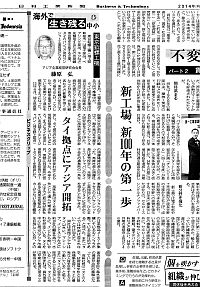 Hiroshi Fujiwara, Chairman Asia Enterprise management lab.
Tokyo Byora Koki Co., Ltd manufacturers cold forging dies to produce screws, electronics components and bearing parts.
Now preparing to establish a factory in August 2014 at Rangsit Prosper Estate at suburbs of Bangkok, Thailand.
The reason to open a factory in Thailand is many Japanese big manufacturers went overseas due to Yen appreciation exceeded after Great East Japan earthquake.
The company's customers have received its influence and order receipt has been largely dropped.
Among these circumstances, they have started a survey to work over seas.
In April 2013, Saitama Industrial Promotion Public Corporation started Asean Business study group to support industry's export and global activity.
Mr.Komi joined and got known with Mr. Kiyofuji, president of Koyo Orient Japan who has already opened a office in Thailand.
Both president understood each other and Tokyo Byora is allowed to use a part of Koyo Orient Thailand office as technical support center.
In February 2014 Tokyo Byora opened a factory at Rangsit Prosper Estate where is good to approach Bangkok.
Mr. Komi explained a reason to have selected Thailand
① Some customers there already.
② There are few dies manufacturer.
③ Potential customer, Japanese manufacturers are gathering
④ Infrastructure is well developed.
⑤ Pro Japanese country
And also said our technology will not be stolen in Thailand.
They have almost 10 customers in Thailand, Malaysia and Indonesia and received some inquiry from India.
Current assignment is to have overseas sales force to take care of foreign customers.
Mr.Komi says he is working to hire an excellent human resources establishing collaboration ship with Thailand University and technical high school.
Also trying to hire Thailand student in Japan.
Once Thailand organization is established, their global activity is expected to take off soon.