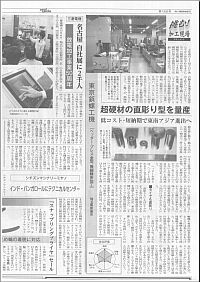 The Nihon Butsuryu Shinbun posted us 2015 January the 3rd.
Mass production of Dies by direct carving a Tungsten Carbide.
To Southeast Asian market with low cost and short lead time.
Tokyo Byora Koki Co., Ltd.
Header press dies, micro precision process, Saitama, Niiza
Challenge ! Processing Site
Direct caving on Tungsten Carbide is spot lit since 2 years from JIMTOF two years ago.
The process on Tungsten Carbide has been done by grinding and EDM but now it should be done by carving only.
The company can be considered as one of the major players of this movement.
Tokyo Byora Koki Co., Ltd. ( Founded in 1961, employee 28) has started mass production of 『Tokyo-Ace』Tungsten Carbide direct carving dies from February 2011.
Producing with high performance machining center and diamond tools, stably 1 micron tolerances product without lapping ( lapless ).
Main product, Header dies made by Tungsten Carbide for electronics and automotive parts , is manufactured 1,000 to 1,500 pieces a month.
Surprisingly big quantity but cold forging dies which needs high craftsmanship, costs tens of thousands to hundreds of thousands of yen is only 10% of their sales.
Majority of production is as shown on the photo, cylinder of 15 millimeter diameter with a small dent in the center. 『Unit price is only \15,000 to 25,000 so this level of mass production quantity is necessary.』
said president Mr. Komi.
Header dies is a one which is used to manufacture a part of screw called as header with forging machine.
It produces 200 pieces of small screw or 1,000 pieces of bearing balls in one minute.
As it is used under such a harsh circumstances, Tungsten Carbide has been started to be used since decades.
Special high technology to avoid material's fixing to dies is also necessary so this is the reason this job still remains in Japan.
But comparatively easy process of axis diameter bigger than 2mm does not remain in Japan any more.
A direct carving reminds us "Bevel Gear" which has starfish shape forging dies but Tokyo Byora doesn't use this.
『If 10micron level of accuracy is accepted, we may consider to do but our company is to manufacture the dies of long lifespan, short lead time, low cost and high accuracy.
We can win the price competition against to Southeast Asian competitors.』said Mr.Komi.
Therefore we have not considered 5 axis machine neither special tools but concentrated 24 hours unmanned operation.
Although traditional EDM process of, narrow hole –>wire–>engraving–>lapping still exists as majority but direct carving order is increasing gradually.
『Nobody has an interest if the price is cheaper only 10% , 20%.
Therefore we have decided to fight with Tokyo-Ace』said Mr.Komi.
It was a Lehman shock which accelerated this.
Small screw dies sales for PC, mobile phone and digital camera which occupied nearly 90% of the company revenue dropped to 10-20%.
Luckily or unluckily, company's new four story building has been completed in this timing.
It was clear that an extension of conventional transaction cannot help.
Order from China and Southeast Asia is increasing.
There is a needs to produce complicating automotive parts by existing tools with possible small number of dies among customers.
Taking this timing, the company will start new factory at suburbs of Bangkok, Thailand from July 2015.
There, they are planning to process 『Tokyo-Ace』which does not need craftmanship lapless direct carving.