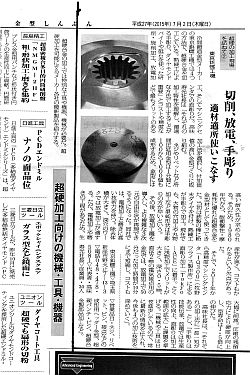 Visiting processing site of Dies.
Tokyo Byora Koki Co.,Ltd.
Cutting, Electric Discharge, Hand Carving
Manage the right man for the right job.
Tokyo Byora Koki Co., Ltd. cold forging Dies manufacturer is processing Tungsten Carbide dies by 4 method.
Hand carving by experienced operators
Grinding and Lathe turning by diamond bite and or grindstone.
Electric Discharge process
Direct Carving by machining center.
President, Mr.Komi said "An importance is to understand each process characteristics and process by selecting the best way", to select the process with the biggest merit at cost and precision and concentrate high add value Dies production.
A cold forging dies to produce Fastener and Rivets molds 100 to 1,000 pieces in one minute so high durability is expected.
So, from 1980s Tungsten Carbide which is good at impact and wear resistance is used as a material for Dies.
At beginning stage, an experienced operator processed by hand using steel stick covered with powder diamond.
Even nowadays, simple shaped work like big hole process and circle process,
hand work is said quicker.
After that, they have purchased Electric Discharge Machine and more complexed three dimension flexible shape can be processed.
The company has a high technology of Discharge process and Polishing.
In the case of cutting volume is big, deep hole process, Electric Discharge process is adequate.
But as it has Electrode production and lapping process, productivity is not good and cost becomes high.
From 2011, they have started to use direct carving process "Tokyo-ACE" by Makino high precision machining center『IQ300.
Specially it is quite strong at shallow process and in the case of 0.5mm depth, 2mm diameter dies for electric contact, process time become shortened to 10 minutes from 50 minutes, cost has been largely reduced.
By residual stress of compression, hardness has been improved and lifespan of dies has been extended 1.5 times.
Mr. Komi explained there are merit and demerit at each process technology.
And,said『Hand work is technology transfer, Electric Discharge improves productivity, direct carving enlarges process possibility』.
Machine and tools are improving day by day so we will deepen 4 technologies collecting always new information.