Dear Stake Holders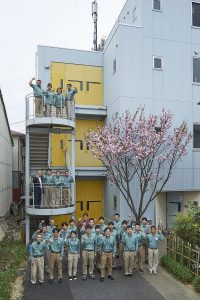 We have started operation on 1961.
Cold heading die production & sales and machine sales were our main lines at starting period.
At that time die's material was mainly SKD11.
On 1980s gradually Tungsten Carbide has been started used as material for heading die.
From early stage, we have started Tungsten Carbide Die production.
After 1990s, latest electric discharge machine has been purchased and became possible a micro hole processing, deep hole processing, variant processing and micro precision processing.
We could prepare our products, a heading die for micro components like world smallest screw, a heading die for TAPTITE screw, a Tungsten Carbide punch, a components for Tungsten Carbide press die, a Tungsten Carbide components with complicated shape, a precision components made by Titanium and Iridium alloy.
These are a result of our motto " Never say we cannot" and made all efforts to comply with customer requests.
Now we have a clearly superior cold forging die from other suppliers.
This is a "Tokyo-ACE" our original Tungsten Carbide die.
In 2011, after long time of research and development, we have realized " mass production of direct carving Tungsten Carbide die" at first time in the world ?
"Tokyo-ACE" is a shape processing by machining center and lapping can be done at the same time.
As a result, it has shortened very much the process time of electric discharge machining + lapping system and realized to lower the costs.
In addition it could realize to improve a life time of die very much and appreciated by customers.
We believe it is our mission to supply good products which are requested by
customers on every spot and contribute to development of industry.
Now it is true many cheap and low quality dies are there in China and emerging countries.
There might be no other way to reduce product price.
But Die's quality defines customer's product quality.
Our company mission is to supply "Good Made in Japan" quality with low price to our global customers and prove genuine die quality.
To enhance our policy, we have established die factory in Thailand on 2015.
Our Thai staff's skill level is still not matured enough but improving day by day.
Not only to Thailand customers, but also to south eastern Asian and Indian customers, we are shipping Made in Japan high quality level die.
Our high precision Tungsten Carbide die is considered more useful generally for cold forging process.
For next generation automotive, aerospace industry, semiconductor and medical who need 『smaller and lighter 』, we continue our development of precision processing technology for new materials.
We continue our challenge as frontier of manufacturing technology, footing on the base of production " Monozukuri".
June, 2017
Hisamitsu Komi
President
Tokyo Byora Koki Co., Ltd.
Notice