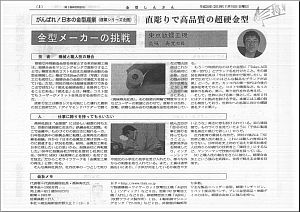 hallenge of Japanese Dies manufacturer
High performance Tungsten Carbide Dies by direct carving
Tokyo Byora Koki Co., Ltd.
President Mr. Hisamitsu Komi
Technology a merger of machine and craftmanship
Tokyo Byora Koki Co., Ltd. who is specially good at micro cold forging dies has succeeded in developing a high accuracy and cost saving Tungsten Carbide dies by direct carving of Tungsten Carbide with machining center.
Recently they have also succeeded in processing 20mm depth and trying to expand market of Tungsten Carbide dies.
But their power is not a direct carving.
It is to propose 『Usable Tungsten Carbide dies』.
Usable means a dies which user can realize merits of accuracy and cost.
Direct carving is an excellent modern technology which realizes lapping less but craftmanship like polishing by diamond powder is absolutely necessary from now on.
The strength of our company is a merger of EDM, NC and craftmanship, says Mr. Hisamitsu Komi, president.
By two wheels, following to user's requests of accuracy and costs, of course together with Direct carving, EDM and Lapping, they are offering the most suitable solution to customers.
Another peculiarity is they put a brand name of 『Tokyo-Ace, first generation』 .
Mr. Komi explained an intention to sell it to global market.
Brand name is necessary for it.
"First generation" is for further development.
Try more to lower the cost, higher the accuracy and make second, third generation.
As a first step towards globalization, he plans to open a factory in Thailand next February.
People Be proud of your job
Mr. Komi's carrier is something new as dies specialist.
Born at joinery in Kyoto, joined a big steel company where he has learned about metal and manufacturing. Changed to start up company where corporate revitalization has been experienced at front end.
As he worried Japanese metal processing company is declining while having world top technology, he has changed to an investment company and in 2006 the investment company took over the company and later 2009, Mr. Komi took over by MBO.
Therefore he insists his life work is revitalization of metal processing company.
To reform internally, Mr.Komi emphasizes employee should have a pride oh his job.
To stimulate employee, he has arranged a family factory tour, internship and local primary school pupil's factory tour.
The factory is on the way to school, he has created windows at primary school pupil's height to look into the factory from out side on their way to see what they are doing, so that children can feel more familiar with the manufacturing.
Importance of internal education is a matter of course.
Their power is a merger of NC technology and craftmanship.
They have arranged a working place next to each other a freshman and long time experienced 60s engineer, to have a technology transfer by one on one basis.
Corporate memorandum
Representative : Mr. Hisamitsu Komi, President
Capital \10,000,000
Revenue approx.\ 250,000,000
Founded 1961
Employee 27 people
Head office 7-13-3 Nobidome, Niiza-shi, Saitama ken, Japan
Web site http://www.tbyk.co.jp
Equipment Wire cut EDM AQ325L 8sets
NC carving EDM AP1L 8sets
Machining center iQ300 Makino iQ300 1 set
4 axis machining center TC-22B 2sets
Main products: Header dies, Tungsten Carbide punch, pin
Rivet, contact punch, press dies parts, wire dies etc.